Artists
Meet Our Talented Artists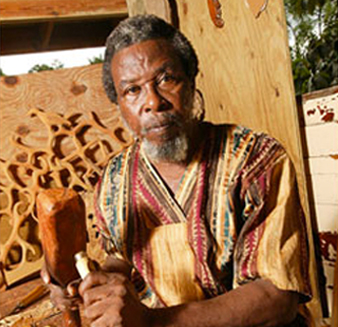 Vincent Joseph Eudovic
Date of Birth: April 15, 1942
Nationality: St. Lucian
Length of Service: 40+ years
Born at Babonneau on the 15th of April 1942, Vincent Joseph Eudovic at the age of ten was a student at the Gros Islet Primary School. He started sculpturing at a very young age and competed in his first exhibition when he was only 12 years old. His sculpture named 'Ali Baba' won first prize, which was fifteen dollars.
Read More
From then on, Eudovic was set in his vocation and at the end of his schooling, migrated to Trinidad, where he became a protégé of famed artist Ricardo Vincenté. There, he continued his studies in the art of sculpturing for a period of ten years. During this time he competed at various exhibitions and won several prizes.
After returning to St. Lucia, Eudovic was employed by the Government of St.Lucia to teach art and craft to students at the Choiseul handicraft centre, but he felt he still had more to learn in is field. So he applied for a UN scholarship, hoping to travel to some country where he could perfect his skills. The United Nations proposed Nigeria, Africa, where he would go on to study for seven months. This was a great experience and a time of maturity in his art form and life.
In Nigeria, he discovered many extraordinary artists who taught and influenced him significantly. He first studied monumental sculptures with artists who worked on gigantic pieces almost twenty feet high. After he was initiated into the traditional art of Yoruba, he studied the artistic symbols of the people and their tradition of sculpting which is old and very elaborate. He also studied modern art during his time in Nigeria.
When Eudovic returned to St. Lucia, he continued to work with the Government and Catholic Church, teaching many young men the art of sculpting. He also held workshops around the Caribbean. He gradually moved on to start his own gallery and workshop, currently situated at Goodlands, Castries. After a few years, he stopped teaching large groups of students to concentrate mainly on producing work for exhibitions and his art gallery. He holds approximately three exhibitions per year.
Vincent Joseph Eudovic uses local woods for his abstract carvings, and since no two roots are the same, every single sculpture is unique and different. The main wood he uses is Laurier Cannelle, which is now extinct on the island, but he uses the old stumps and uncovered roots which are usually found deep in the forest. Laurier Cannelle has a remarkable beauty which one can see after a sculpture has been completed. It is also very durable. Other woods used are Mahogany, Teak, Laurier Mabouey, as well as red and white Cedar.
Eudovic has participated in many competitions over the years, including the Caribbean's first wood carving exhibition held in Guadeloupe in 1975, where he won the Golden Medal Award for best Caribbean Wood Sculptor. During his distinguished career, some of the exhibitions which he has held at home and abroad include:
M&C Fine Arts Awards, St. Lucia (1980-1989 – he was the chairman of the judging committee for some years)
Carifesta (Jamaica, Trinidad, Barbados, Suriname, Barbados)
Munich, Germany
Hewanorra International Airport official opening, St. Lucia
Exhibitions in St. Vincent, Grenada, Martinique, Antigua and several other islands
The first Caribbean Heads of Government Conference in Trinidad and Tobago
His works have also been displayed extensively in many other countries. It includes the Eastern Caribbean Central Bank (ECCB-St. Kitts and Nevis), United Nations (Geneva), various Heads of Government Offices, Fort de France Government Offices (Martinique), as well as in many private collections and museums worldwide.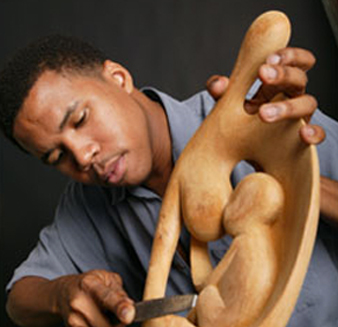 Jallim Eudovic
Date of Birth: December 6, 1980
Nationality: St. Lucian
Length of Service: 11 years
Jallim Eudovic has been a confirmed artist from the tender age of five. A prodigy in every essence of the word, Jallim has a natural affinity for the arts but as he proudly admits, his father and famed St. Lucian sculptor, Vincent Joseph Eudovic has been his greatest mentor.
Read More
Though his first love is sculpting, Jallim is receptive to all genres of art, including painting and the literary arts to name a few. With an unbridled passion, deep social and cultural conscience, as well as thought-provoking and awe-inspiring style, it is no wonder that this young artist has acquired international acclaim for his work.
So far Jallim has held exhibitions in Paris, Ottawa, Africa, China, Martinique and England. However, his greatest achievement to date occurred when he was commissioned by the Chinese Government to create a monumental bronze sculpture for the Changchun International Sculpture Park in China, the world's biggest sculpture park. His sculpture 'Nature' was so impressive and well-received by the Directors of the Park that they commissioned him to create a second sculpture for Changchun Urban Sculpture Museum, China's largest urban sculpture museum.
He was also re-invited to China subsequent to his return to St. Lucia to create another monumental sculpture, this time for the Changchun Automotive Park, a park when completed will celebrate the automobile from past to present and will also be the largest of its kind in the world.
Jallim can be found working daily on his next masterpiece at the internationally renowned Eudovic's Art Studio in Goodlands, Castries, St. Lucia – a must-stop on your tour of St. Lucia. He can also be contacted through his website http://www.jallimeudovic.com.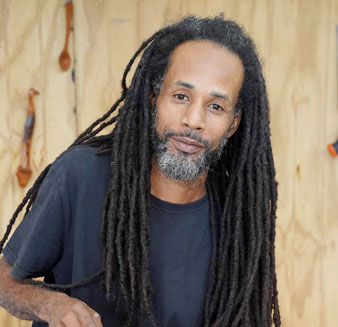 Joshua Pierre
Meet Joshua Pierre, artist extraordinaire at Eudovic Art Studio. He has been creating beautiful works of art from the tender age of five, when he first started training with the internationally renowned artist Joseph Eudovic during his summer vacations.
Joshua finds this medium very soothing and spiritually satisfying. After graduating from high school, he made the decision to continue studying in the field of wood sculpting, training with master artists at the Choiseul handicraft center and also in Canada where he lived and worked for over ten years.
Read More
Upon his return to St. Lucia he decided to continue following his passion and go back to his roots. He therefore dedicated his professional life to creating amazing works of art. Now at the age of forty Joshua has found pleasure and joy in meeting visitors who appreciate the pieces that he creates.
According to Joshua, "Life is blessed, it may have it's ups and downs but Jah has provided abundantly".
You can meet Joshua at Eudovic Art Studio on any given day carving away in the workshop. Feel free to have a chat with him, take snapshots and purchase a piece of his work. You may also send any questions you have to Joshua through our website, he will be happy to hear from you.